Coronet Peak is Queenstown's most underrated ski field as it tries to compete with high altitude options – The journey time from Queenstown is unrivalled at about 20 minutes and the terrain is epic fun for beginner, intermediate and advanced skiers!
Sitting about 20 minutes outside Queenstown centre, Coronet Peak offers a perfect option for those looking to get on and off the snow quickly. The South facing aspect, extensive snowmaking capabilities, and world-class grooming enables snow coverage from June until October.
Beginner skiers have long wide nursery slopes which allow maximal learning time and less lift time. More adventurous skiers can explore the whole mountain and make it their blank canvas through the twists, turns, gullies, and rollers. Your imagination is the only limit.
 Opening times winter: 9am – 4pm
Night skiing: 4pm – 9pm – Wednesday, Thursday, Friday
Coronet Peak ski field stats:
Base Area Elevation: 1187m
Highest Lifted Point: 1649m
Vertical Rise: 462m
Ski Lifts: 5
Beginner Terrain: 20%
Intermediate Terrain: 45%
Advanced Terrain: 35%
Getting to Coronet Peak
Transport to Coronet Peak from Queenstown
Driving from Queenstown to Coronet Peak is super easy and is accessible to all vehicles. It is always advisable to carry snow chains as the roads can be icy early in the morning. And there's always the chance of fresh snow when during the day. Thankfully, the road is well maintained and tarmac virtually all the way, which is more than can be said for other ski fields. You'll whizz up in no time unless you get stuck behind a pesky campervan.
From the centre of town, the quickest route is to take the road towards Arrowtown. Follow this for about 10 minutes, passing over a canyon bridge and through Arthurs Point before the access road appears quickly on the left. Wind your way up the ski field access road for another 10 minutes and a selection of car parks offer themselves. The furthest away parking spots have a free shuttle bus to roll you up slopeside.
Be sure to check weather conditions before setting off in the morning, bad weather can cause road closures. Plus you may need snow chains to get up to the ski resort.
Here's some directions:
If you don't have a car there are a number of options for you to choose between. Many buses run from Queenstown including a package by NZSki who operate the ski resort. You can book a lift pass and a return bus ticket on their website here. https://www.theremarkables.co.nz/passes-rentals-lessons/transport/
Coronet Peak Ski Pass
Lift tickets are easily available from The Snow Centre lift pass office in town or on arrival to the mountain. During peak weeks it is highly recommended you collect a ski pass prior to arriving at the ski field. You don't want to be queuing on your first morning!
½ day and full day lift passes are available. ½ day passes run between 12.30 – 4pm in the afternoon. Plus, under 5 years go free. Amazingly, If you're skiing for multiple days your lift pass will work for both Coronet Peak and The Remarkables. NZski operates both of these ski fields. It allows visitors to select between the two. Perfect if you're looking to explore different areas. 2 ski resorts, 1 ski pass.
Skiing at Coronet Peak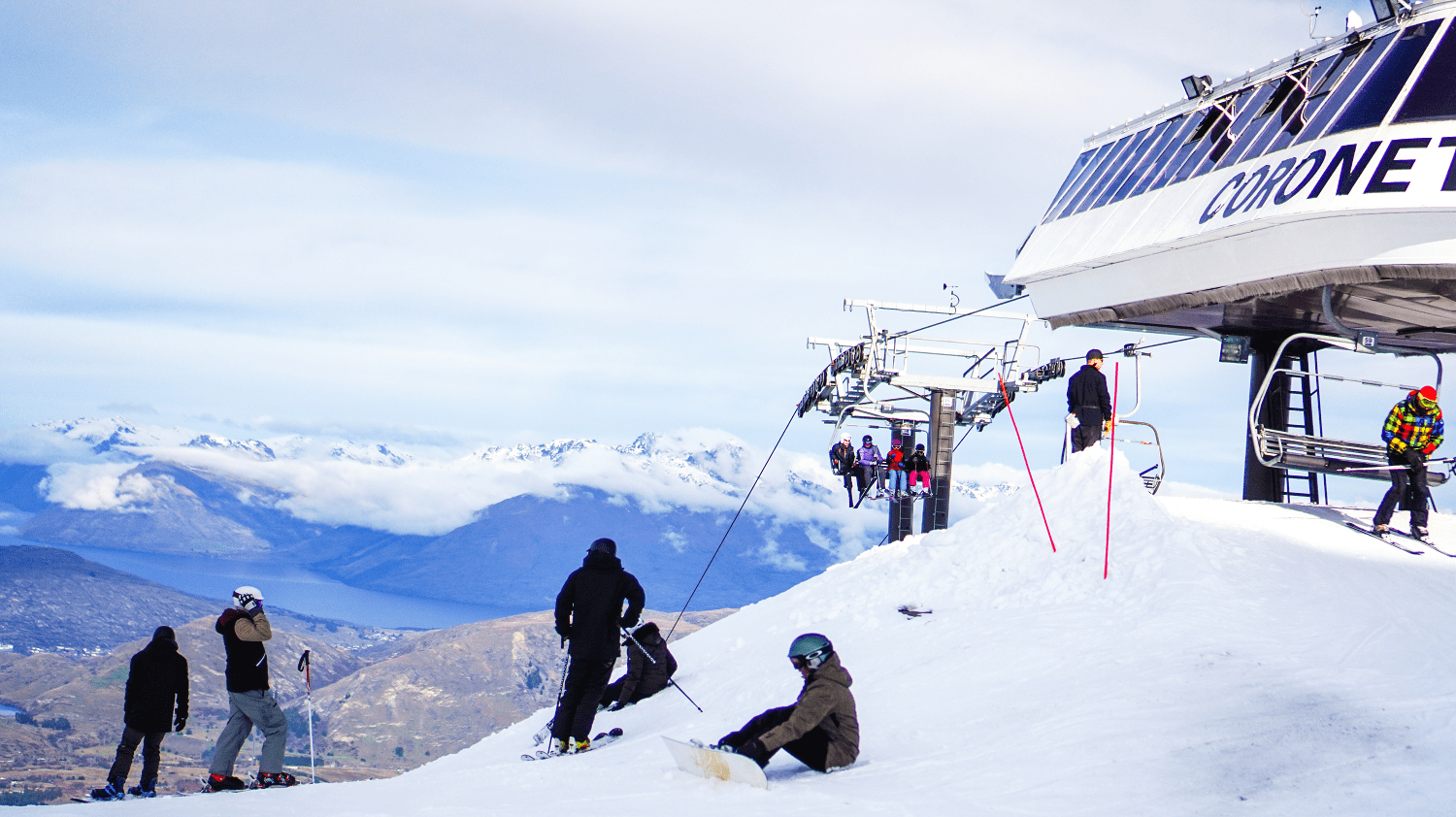 Coronet Peak ski area resembles one wide open canvas for you to pick your unique route down. 3 main lifts serve intermediate and advanced skiers to each fall-line option while beginners start to progress through the lower slopes.
Novice skiers and snowboarders cruise hop straight over the magic carpet and meadows chairlift. This area provides excellent opportunity to gain control of your ski legs. You'll quickly be floating up Meadows for a longer yet gentle ride down. It will really leave a feeling of skiing accomplishment! Pickup stunning vistas of the local valleys, historic Arrowtown and a glowing The Remarkables.
Advancing skiers can step onto Coronet Express chairlift which serves access to the rest of the mountain from the base building. Fly down the M1 run top to bottom for a confidence-boosting warmup. Hook up another lap by picking your way down a  selection blue, red and black runs. Move onto Greengates for narrower winding rolling terrain or Rocky Gully T-bar for race style groomers. Beware, you're going to want to pick a good T-bar buddy!
The terrain under Greengates chairlift is a thrill for stronger skiers. Take on the boardercross for thigh burning rolls and tight turns. Younger riders will be keen to check out the freestyle terrain park which is filled with accessible jumps, boxes, and rails. It's nothing too intimidating but enough to flick the adrenaline switch! The bottom half of the mountain here is filling with pisted gullies and chutes that will spit you out if not paying attention. Eventually, the lift glides into view where you'll be thankful for a rest.
If you need a little break then drift your way over to Rocky Gully where you can take a couple of cruisy laps on the T-bar. Heidi's Hut overlooks the base of the lift where you can sit on the sunny deck and watch snowboarders work out the just how to use a T-bar. 
 Coronet Peak Top Tip: Greengates chairlift has its own car park. If you've got a ski pass already, find yourself a park by the lift for speedy snow side access.
Coronet Peak Night Skiing
Facilities at Coronet Peak
Heidi's Hutt stations at the bottom of Rocky Gully serving skiers needing a quick coffee stop or long lazy lunches. Fortunately, you don't have to walk more than 2 metres from the snow. You might be a little sluggish after a gourmet pizza or pasta bowl that you've washed down with a local wine.
The base building is packed with refreshment options for all times of day. Grab some breakfast while waiting for the lifts to open early doors. Take a quick snack lunch from the cafe that offers baked treats, sandwiches and hot snacks. If you're sticking around for the night ski on Wednesday, Friday or Saturday the kitchen reopens from around 4.30pm to cook up grande pizzas, stacked burgers, and a few wings. Not sure you're going to have time to ski once you bounce through all the food stops…
For an afternoon of relaxation or cheeky beer on the slopes, the Ice Bar lays waiting in the heart of Coronet Peak. You'll see it halfway down the M1 piste serving crisp beer and chiller tunes. Grab a Corona and take in New Zealand's epicness (pretty sure that's a real word).